BANNERS & NEWSLETTERS

Website



Anchored by chemweek.com, our digital advertising opportunities touch our online and mobile audience in innovative ways on multiple platforms 24/7.
Build your brand, drive traffic and collect high-quality leads with high-impact advertising on chemweek.com.

Your marketing message will be seen by more than 50,000 highly engaged visitors each month, generating 180,000 impressions, ensuring your campaign will be a huge success.
---

Newsletters
IHS Chemical Week's newsletters offers targeted information platforms for advertisers.

Business Daily

Distributed daily to more than 5,000 C-level executives.
Topics: Latest news, expert analysis, and a great range of actionable data allow subscribers to stay on top of industry trends and make better business decisions.


Weekly Chemical Insider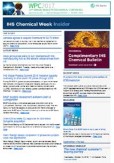 Distributed weekly to over 60,000 contacts.

Audience: C-level executives, e.g. CEO, CFO, CIO, Senior Manager/ Director/General Management, Sales/Marketing/Business Development, Technical/Engineering, Purchasing/Procurement, Consultant, financial advisor (chemical industry), Analyst/Library/research center/information specialist
Topics: Latest new, industry events and insights from current issue of Chemical Week


Topical Newsletters
All Topical e-Newsletters (delivered to more 25,000 contacts) feature top stories and market / topic-specific analysis, followed by events listings. Delivery schedule:
1st Tuesday of the month - Specialty Chemicals Insider

2nd Tuesday of the month - Finance & Acquisitions Insider

3rd Tuesday of the month - Basic Chemicals & Polymers

4thTuesday of the month - Asia Chemicals Insider
---