Chemical Week Buyers' Guide
Our Buyers' Guide includes information about suppliers, manufacturers and producers of all products for all major segments of the chemical industry. With over 15,000 products and nearly 1,100 companies, it is the chemical industry's most valuable tool to help industry personnel find the widest variety of chemical products and services.
The Chemical Week Buyers Guide is temporarily offline as we conduct our annual post production maintenance. The 2017 on-line edition will be available soon. Please check back.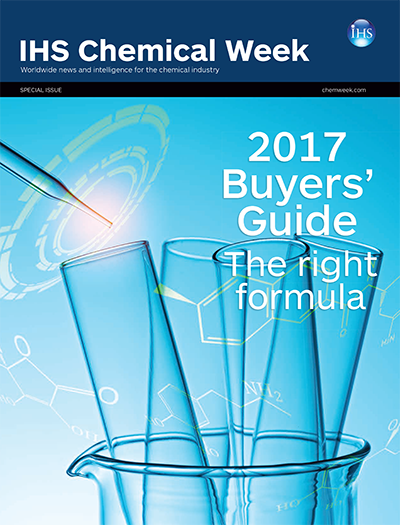 View the 2017 Buyers' Guide
To purchase a print copy of the Buyers' Guide for $75.00 (plus shipping + handling), please contact us at:
+1-866-501-7540 (Toll free in the USA)
+1-847-291-5218 (International)
Contact the Buyers' Guide team
Joe Mennella
joseph.mennella@ihsmarkit.com
John Markovic
johngmarkovic@gmail.com
Nanette Santiago
nanette.santiago@ihsmarkit.com